Everything I've learned from 18 years of trying to break the internet
I haven't really spent 18 years trying to break the internet. That's just a side effect of my condition.
You see, I'm stubborn.
If I want to work out how to do something, I keep at it till I work it out.
Even if my time investment far outweighs the value I gain from finding the solution.
So, I'm stupid too!
The thing is, that means that over the years I've tried a lot of things online on the technical side.
Some have been huge successes.
Others have felt like I was just a hair's breadth from breaking the web.
Most have been floating around in between the extremes.
I'm going to share as many of the lessons I've learned as possible.
Remember that this is all about the tech. The things that often stop aspiring entrepreneurs from getting started or at least slowing their progress down.
Chances are this going to be a bit of a ramble, but if you're starting out online, this will help you.
You will discover answers to problems that are already scrolling your nurd.
I'll probably also get you thinking about things that haven't even been on your radar till now.
Which means you'll discover completely new questions that you need the answers for.
Better to be forewarned though and planning for them rather than being stampeded by them later unexpectedly.
As this is likely to go on for a bit, let's get started.
Let's start at the beginning. You'll need a domain name for your website.
Get your domain name
Don't get a free domain
Some web hosts offer a free domain name when you buy a hosting package. That seems like a no brainer surely?
Don't do it.
Your domain name is going to be a key brand asset for your online business. You could build a hugely profitable business on a website using that free domain.
With a free domain from your host though, it's not in your name and you don't control the DNS settings (I'll explain this soon) for that domain.
That means it could be handed to a new owner with you having no way to stop it. In reality most web hosts are reputable and wouldn't sell on a domain.
But mistakes do happen.
That's always going to be the danger.
If you don't know about domain selling companies, you may choose some small, no mark company to buy your domain from. The kind without the budget to pay for the tech needed to keep your domain safe.
Perhaps a company like Google, for example, who accidentally sold google.com for just $12.
As that link demonstrates, buying your domain may not guarantee its security, but it is a step in the right direction.
How fairies control your domain's DNS
Let's keep this simple and non-techy.
DNS stands for Domain Name System. It's powered by fairies who spend their whole time watching the address bar of your browser. When you type a web page address into your browser, the fairies find the website on the web and deliver it to you.
Maybe you think fairies don't exist. That's because the only people who can speak to them are the owners of each domain name.
If everything's fine with your site, that's not a problem. You don't need to speak to fairies.
It only becomes an issue for you if your site goes offline.
Imagine you're in a launch and your site disappears off the web. You can't contact your hosting company or they say it's going to take a day or more to get their system sorted and your site back online.
The quick way to get back online is to put your site on another web host. However, if you don't control your domain's DNS, you can't tell the fairies about the new site. So they keep delivering your old site to visitors, even though its offline.
Thankfully, this is a pretty rare case for web hosts. It does happen though, and usually companies going through this type of catastrophe become very uncommunicative.
It just isn't a risk worth taking and I'll show you where to get your own domain.
Which Top Level Domain should you use?
A Top Level Domain or TLD is the extension that appears at the end of a domain. For example:
Those are all examples of TLDs. The first two have been around pretty well since the start of the web. The second two are examples of country specific TLDs and the last two are examples of newer TLDs that resulted from a change in the rules governing TLDs.
In addition to TLDs, there are Second Level Domains or SLDs. On this site, the SLD is ianpullen, however I'll refer to domain name rather than SLD as I think it makes more sense to most people.
If your business is specific to a country, then looking to use the respective country TLD usually makes sense. It could boost search engine rankings for searches in the selected country.
If you want to use a country specific TLD, be sure to check you're eligible to buy it. Some countries, such as Spain with .es, require you to be resident or have a business office in the country.
If you're not location specific and you can find a suitable .com that's available, it's probably still the best option to choose. If someone tries to guess a domain name, they'll usually try .com first.
One reason to select a different TLD may be if there is one that is specific to your industry, such as .fashion for a clothes retailer.
How should you choose your domain name?
As suggested above, availability may be the main driver when you select your domain. Here's a checklist of things you should bear in mind when choosing though.
Names can only include letters, numbers and hyphens and can't start or end with a hyphen
Shorter is better as more easily remembered
Google is a fan of brands, so including your brand name may be useful, though it may have less benefit for small businesses
Include a relevant keyword if possible as it helps signal what you're about, but this no longer affects search engine rankings
Is it easy to spell? Don't select something that you need to explain how to spell it
Likewise, think hard before making up name with a vowel or two removed, like flickr.com
When you have decided on a domain name, type it out and look at it. Then look at it again and then get other people to look at it.
Simple advice almost certainly ignored by those who bought penisland.net and therapists.com. Then again, considering the coverage they got, perhaps very astute choices.
Where to buy your domain name?
To buy a domain name, you will need to sign up for an account with a domain registrar.
I've used a few, but for the last few years I've bought all my new domains from Namecheap (aff). I still have domains with other registrars, but that's only because I'm too lazy to move them and save a few dollars a year on each.
It's not uncommon for some registrars to sell domains more cheaply than Namecheap for the first year, but then the price jumps significantly from the second year onwards. So when you buy, make sure you check what the renewal cost will be.
That also now applies to purchasing many of the new TLDs available on Namecheap. The owners of the TLDs know that if you set up a successful site using one of their TLDs, you will have to keep renewing year after year, so a low initial fee will lead to greater long term profits.
There's nothing wrong with that, but make sure you're aware of ongoing costs before you buy.
Are you a domain hoarder?
In case you're one of those people with an itchy trigger finger when it comes to browsing sites selling domain names, this is for you.
Cloudflare, a company that helps protect websites from attacks (we'll get to them later) have another service.
Cloudflare Registrar sells and renews many TLDs at cost price. You have to use Cloudflare's service for any domain names bought through them, but if you're just parking domains, then there's nothing to set up.
If you've got a lot of domains you're not using, it could be worth looking into transferring them to bring the costs down.
Which platform should you choose?
When you've got a domain name, you need to decide how you will create you site.
Broadly speaking you can choose between two approaches.
Hosted or managed platform
These are the quickest and easiest solution to getting started online. You don't have to worry about any of the tech, it's all taken care of for you.
When you sign up, you get to focus fully on styling the site and adding your content. The following are a few such services. I've not used any of these, but have heard lots of positive things about each:
There are quite a few others, so I recommend you do your research if you're thinking of using a hosted platform.
Some of the pros
Quickest way to get started
Tech support is handled by the platform
Many include email automation systems
A single admin area to log in to and manage your whole business online
Some of the cons
Relatively expensive when you're starting out
Arguably jack of all trades and master of none
If you're unhappy with one aspect of the service, it may be difficult or impossible to switch to another supplier
You're limited to the features that the platform chooses to provide
Self-hosted
A self-hosted solution will take a bit more planning.
In this case you will have to buy hosting, set up your own site and connect it to other services such as mail automation.
If you go this route, the availability of open source software can make this very cost effective. Some of the software options available are:
If you're going to self host, I strongly recommend WordPress as the solution you choose. It's believed to be the software used by more than 30% of the sites online today.
In fairness to Joomla, I've not used it in over a decade. I have used Drupal 7 (at time of writing, version 8 is the current release) and found the admin experience hugely inferior. In fact I was employed last year to make exact replicas of a couple of Drupal sites on WordPress because the company managing the sites had reached the end of their tether with them.
Some of the pros
Can be very low cost to get started
Many web hosts supply WordPress sites ready for you to configure
You can choose the best service for each requirement of your business
You can add new features whenever you need them, often with plugins
Some of the cons
You are responsible for all the tech
You need to research which services and tools to use
Can take more time to get a site ready to use
You need to connect all your services and tools so they work together
The best choice is…
The best choice is one of those two, a hosted platform or a self-hosted site.
Before making a choice, read the rest of this article. A lot of what I cover will answer questions and highlight solutions for self-hosting. Some will also apply to hosted platforms, but the focus is largely on self-hosted and WordPress related from here on.
A lot of the headaches of self-hosting can be avoided when you know how to do things right from the start. It's surprising how often one poor choice early on can lead to future pain and higher than necessary costs.
…but personally I choose WordPress
I came relatively late to WordPress, first starting to use it around 2015. Prior to that I'd been working with various systems like ModX, Codeigniter and Laravel.
I didn't become an instant fan of WordPress, but I'm a strong advocate for it now.
There is a learning curve with WordPress, but that applies to any platform, and there is a huge amount of support material available.
As an open source project, it is completely free. Most people think of the free applying to cost of purchase, but much more important is the fact that the code that powers WordPress is free.
That's a large part of the reason that so many plugins exist that can turn a simple site into just about anything. You can browse tens of thousands of free plugins on the WordPress repository. There is also a wide range of premium paid for plugins on CodeCanyon.
And if a plugin you need doesn't exist yet, you can hire someone to write it for you. Because WordPress is so popular, developers can be hired relatively cheaply.
This means that if you have a great idea for a new feature for your site, you can go ahead and do it. If you're using a hosted platform, you can suggest the new feature, but there's no guarantee they'll implement it.
So don't get excited about WordPress not costing anything. Sure, that's great when you're starting out with no income yet, but the real strength is the flexibility.
And remember too, when your site is successful, you shouldn't be surprised if it costs as much to run WordPress each month as one of the hosted platforms. You'll probably upgrade to higher level web hosting and have a monthly retainer for a developer in case of any problems.
WordPress.org vs WordPress.com
This is a common point of confusion, so let's mention it here.
There are two WordPress websites, WordPress.org and WordPress.com.
The former (.org) is the home of the open source project and where you can download free plugins and themes.
The latter (.com) is a hosted platform. You can get a blog on this platform for free, but for a site that you can install plugins on, you will need to pay for a Business account. If you plan to sell products, then you'll need the eCommerce account which is almost twice the cost of the Business account.
I believe self-hosted WordPress is a better choice, but it is worth considering some of the other aspects of the paid for accounts. One that's easily overlooked is VideoPress. That allows you to upload unlimited videos to your site. If your site if likely to be very video heavy, that could remove the need to pay for a Vimeo or Wistia account.
Which web host should you use?
Making the right choice on web hosting from the start can save a lot of pain later.
Once you've got a site up and running, you're going to be very reluctant to move it without a good reason.
Even if you know what you're doing, moving your domain and live website is a pain in the arse.
If you don't know what you're doing, I guess it's more like chewing your own arse off and performing Riverdance on it before setting it on fire.
The different types of web hosting
We'll consider three different types of web hosting, shared hosting, virtual private servers and dedicated servers.
The most common and usually cheapest type of hosting is called Shared Hosting.
The name is quite descriptive as it means multiple web sites are placed on to the same web server. The exact number of sites sharing a server varies from host to host.
All these sites share the same resources, so the more sites there are on the server, the greater the likelihood of poor performance.
Most sites on shared hosting are likely to have little traffic, so much of the time there are plenty of resources to share around. However, if a few sites get busy at the same time, they're all fighting for the same resources and this can lead to all the sites on the server running more slowly.
When looking for a shared host, there are a few things to consider. Look for a host that states they use SSDs (Solid State Drives). These are faster than than the traditional Hard Disk Drives (HDDs) and also more expensive. If a host uses SSDs, it's likely they're also taking other steps to try and ensure your site is as fast as possible.
Also make sure they supply a free SSL certificate. The Let's Encrypt project supplies free SSL certifcates that anyone can use. These certificates are fine for most sites, so don't choose a host that only offers paid for certificates. Note that in some cases, there may be a requirement to use a higher grade certificate, but if that's the case for your business, shared hosting is probably the wrong choice anyway.
A final word of caution about shared hosting. If the server is poorly configured, it may be insecure in the event that one site is hacked. That one site can open the door for the hacker to hack every other site on the server. Most big name shared hosts shouldn't be vulnerable to this, but it can still be an issue with some smaller hosting companies.
Some of the pros
All completely managed for you
Usually includes email using your domain name
Many include a free SSL certificate
Some of the cons
Performance may be variable
Some charge for additional features you hadn't realized you would need
Virtual Private Server (VPS)
This is similar to shared hosting in that multiple sites are placed on the same server. The difference is that each one is housed in it's own virtual server that has it's own IP address and it's own guaranteed resources.
That means that if every other site on the server is busy, it won't impact the speed of your site at all. Your site will always have at least the resources that you pay for. In fact a lot of the time, it may be able to access more than you pay for as some hosts keep an additional pool of resources that can be shared by sites getting performance spikes.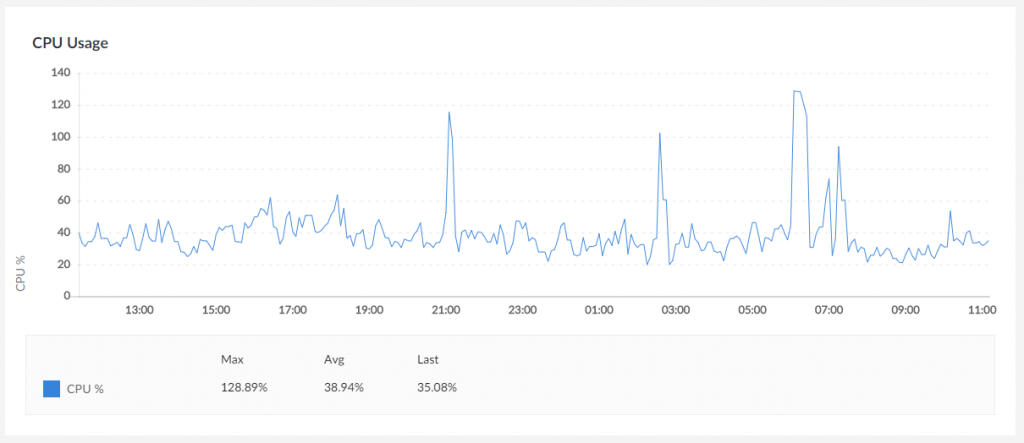 That graph shows the processor usage on one of our Linode VPSs. You can perhaps see that there are several spikes where we were using more than 100% of our available resources. That's because Linode make an additional pool available any site can use when needed.
Some of the pros
Guaranteed resources
Usually better performance than shared hosting
Some of the cons
You have to manage the VPS (this is easier to do nowadays as I'll show)
Generally more expensive than shared hosting
Dedicated Server
As the name suggests, this is a web server that is dedicated to just your site. In fact you could choose to run more than one site, as you get to choose to do whatever you want with your server.
You will usually find two types of dedicated server offered. One sees you receive access to a server that you then take full control and responsibility for. The other option is a Managed Dedicated Server where you specify what you want and the hosting company take care of it for you.
Either way, this is really a choice to consider later, when your site is established and constantly busy. At that point you may want to look into a dedicated server, though it's possible a larger VPS will be a better option.
Some of the pros
Great performance guaranteed all the time unless you get super busy
Some of the cons
Can be very expensive, especially for a managed service
I don't personally use shared hosting, but have past experience of a few companies that I believe offer reasonable performance at an affordable price.
Siteground (aff)
Note they offer an introductory price, so the rate increases when you next make a payment
Dreamhost (aff)
Offers a relatively low monthly fee, but email isn't included in the price you see
A2 Hosting (aff)
Usually automatically applies a discount code to first payment, so check the Monthly fee at checkout to ensure it's what you expect
Watch out for loss leader pricing
Earlier I said that moving a live site is a pain in the arse. Some hosts use this to their advantage by offering loss leader pricing.
They assume that once your site is up and running, you won't want the hassle of moving. That means they're prepared to take a loss upfront, knowing they can charge higher rates later.
The result is that some of their customers will be paying much more from the second payment than if they had chosen an initially more expensive competitor.
You can see this approach on various products at Godaddy and Hostgator, and probably others too. In fairness, you could say Siteground do a similar thing, however, it seems to apply to pretty much the whole product range with Godaddy and Hostgator.
Listen to the experts
The forum site Web Hosting Talk is frequented by many working in the web hosting sector.
When you find a host you're interested in using, try searching for the company name. Make sure you use the advanced search option and set it to return threads, not posts. Alternatively use Google search's site search feature, enter site:webhostingtalk.com company_name, replacing company_name with the company you want to search for.
Bear in mind that you will always get a mix of comments as no host can keep all their customers happy all the time. So look for which way the balance of comments go and don't rely on outliers.
For example if you try searching Endurance International Group or EIG, you'll probably see the balance of sentiments is heavily negative. EIG is a big publicly owned company that many claim doesn't always fairly balance their customer's requirements against their shareholders requirements. That's possibly the most diplomatic comment you'll find about EIG online from a non-affiliate.
EIG own a large number of web hosting companies and this Wikipedia page has a list you can check out. If you view that article, you'll see the aforementioned Hostgator are owned by them, as is the surprisingly popular Bluehost.
VPS providers
One of the worst thing about VPSs is that you have to manage them completely. That means you're responsible for getting everything working as you want and then keeping the web server software up to date.
This used to be a very complex process and it meant VPSs weren't an option for most site owners. That's different now and a low cost "managed" VPS is a possibility for any website owner.
First, these are a few VPS providers:
You'll probably find their costs are much the same. I've got VPSs with Linode and Vultr, though my preference is Linode. That's largely because when they upgrade a product, they apply the upgrades to existing customers. Vultr seem to only offer the upgrade to new customers, so existing customers end up paying the same for a lower spec product.
If you're starting out with a new WordPress site, a 1GB VPS should be fine. You can always easily upgrade it later when necessary.
There are several services that set up your VPS for you and keep the software up to date:
At the time of writing, if you've got a single site, Serverpilot is generally most cost effective. If you've got multiple sites or VPSs, things may tip into Runcloud's favor. If you're comfortable with SSH and Bash, you could even use the free Runcloud service and install your own SSL certificates, but I'm guessing that doesn't apply to you.
Cloudways is a little different to the other two. Rather than buying your own VPS and then installing Serverpilot or Runcloud, Cloudways resells VPSs with their server management software already installed. This makes it the easiest to get started with, but you shouldn't have difficulty setting the other two up in less than 20 minutes.
At the time of writing, a Cloudways 1GB Digital Ocean VPS is the cheapest choice from the three services.
However, if you need to upgrade to a higher spec later, the costs rise. This can make Cloudways exponentially more expensive as the VPS spec increases. That's why I'd be a little wary of this as a solution.
One last option to consider is Kinsta which offers managed WordPress hosting on Google Cloud VPSs. It looks more expensive, but is arguably the easiest WordPress/VPS solution.
Domain email
None of the VPS options suggested above include email. That makes the servers easier to set up and manage. So if you choose a VPS or a shared host that doesn't include email (most do include it), you'll need to make alternative plans for sending and receiving emails using your domain name.
The free domain email option
If you don't need more than five email addresses and a 5GB inbox is large enough for each of those accounts, check out Zoho email.
Zoho lets you connect your own domain name and use it with 5 email addresses for free. The main downside is that free accounts can't forward emails automatically to another email address.
However, there are free mobile apps you can use to access your email, plus web mail, so it's not a bad option.
Paid for domain email options
If you need more from your domain email, you may still want to consider Zoho, they're one of the more cost competitive services. Some others to consider are:
You can self host your domain email
While you can self host your own domain email, for most people this is probably a really bad idea.
If you've never connected your Mac to a remote server with Terminal or installed Putty on your Windows computer, probably best you skip this.
If you're one of those people who's bought a lot of domain names and needs to use email with them, you might want to look into this as you can run lots of addresses for just $5 per month. That's why I use this approach for some domains, but it's not a recommended solution for mission critical email addresses.
Bear in mind you need to be able to connect to a VPS using SSH and type commands to set up an email server and maintain it. If you need to pay someone to manage this for you, it may no longer look competitive.
The easiest way to do this is using Mail-in-a-Box, a free open source project. A more advanced solution is iRedMail, but if you're really thinking of going this route, keeping things simple is probably a good mantra to follow.
Security (WordPress)
The very first job you should complete after getting a WordPress site is take a look at hardening the security.
Wordfence
My preference is to install the Wordfence plugin. The link is to the free version of the plugin, but there's a paid version too.
Wordfence works as a firewall to block common hacking attacks on WordPress. When the developers discover a new threat to WordPress, they update the paid for plugin as soon as possible to block the threat. The free version is then updated 30 days later.
Obviously the paid for plugin offers greater peace of mind and isn't high priced. However as long as you sign up to emails from Wordfence, you'll often get warnings about known new problems with plugins. This should mean you can remove vulnerable plugins if necessary.
Either way, you should always keep your site, plugins and themes up to date to reduce the chance of problems.
Add 2 Factor Authentication
2 factor authentication (2FA) requires you to install an app on a mobile device and connect it to your site. You then get a six digit code from the app that you use to confirm your identity on your website.
There are several free authentication apps, but I now favor FreeOTP Authenticator.
2FA used to be a paid for feature in Wordfence, but is now in the free plugin. It has been set up to remember your device for 30 days. Having to re-authenticate every 30 days is either a good thing or a bad thing.
If you don't want to have to re-authenticate every 30 days, you might want to install 2FAS Lite alongside Wordfence and use that instead.
How to update multiple WordPress sites simultaneously
A common weakness in WordPress is not keeping plugins and themes up to date. It's not unusual for hackable code to be found in popular plugins and themes. Hackers then search for WordPress sites using them as they know they have a guaranteed way to access those sites.
That's why it's so important to keep your site up to date.
If you run multiple WordPress sites, keeping them all up to date can be time consuming. As a result it becomes one of those jobs you put off, which can eventually lead to problems.
Fortunately ManageWP offers a free service that allows you to connect all your WordPress sites and update them all with one button click. They also have paid addons, such as a backup service that you might also look at.
Another way to handle this is with a plugin that automatically applies updates for you when they become available. Easy Updates Manager is one plugin that handles this.
One potential problem with both the approaches above is that an update may introduce an error that you don't become aware of immediately. Both offer paid for solutions that should prevent that.
Also a change in WordPress 5.2 means that if your site suffers a fatal error, the site will email the admin with a link to regain access. You can then undo changes that were applied.
Performance
Let's start with some notes on performance that apply regardless of platform and then move to WordPress specific things.
How fast is your site?
Before getting worried about performance, it's best to see if there are any issues you need to address.
You can see how fast your web pages are loading using several free services. GTMetrix is is a good choice as it runs two tests each time, Google's PageSpeed and Yahoo's YSlow.
This will help you get an idea for how your site is performing and also give you a base for working out how to make improvements. Some of the things highlighted as problems may be outside of your control, but try to improve as many things as you can.

Click on an list item (1), mouseover the What's this mean? button (2) and click the Read more link (3) for helpful information. You can also use Google to search for tips on how to resolve issues.
If you're on a hosted platform, there may be little you can do other than reducing image file sizes. Hopefully most hosted platforms are constantly focused on keeping all their sites as fast as possible.
Minimize the size of your images
Images are generally the largest parts of most web pages, so making these as small as possible is an easy way to boost speed.
I'll share a WordPress plugin later that will help reduce image size, but here's some options that will be useful even for hosted platforms.
TinyPNG lets you upload up to 20 images of 5MB or less at a time and compress them. Despite the name, it handles JPEGs too.
The results can be incredible with PNG files cut by 70% with no obvious loss of quality. Now I suspect that site uses an open source tool called pngquant to compress PNG files. So if you don't want to have to upload files to a website every time, you can get free software for your computer to get similar results. I personally use Pngyu.
Is your site online?
We assume our websites are online all the time, but that isn't necessarily the case. Obviously we can't keep checking our sites round the clock.
There are services that can do that for us though.
I've been using Uptime Robot for years and have found this a very useful service. The free account lets you check up to 50 sites every 5 minutes. Paid accounts make the checks every minute and also look out for expired SSL certificates.
A nice feature of Uptime Robot is the ability to send multiple notifications if a site goes offline. I get both an email and a message to Slack. You can also pay for SMS messages to your phone.
Obviously that service works with sites on any platform. If you're using a WordPress site, you can get similar free monitoring with email notifications by installing the free Jetpack plugin.
Do you need a CDN?
A Content Distribution Network (CDN) is a network of web servers distributed around the world. These cache assets from your site, such as images and script files, and the nearest server to a visitor is used to deliver those assets. This can improve the speed of your site.
If your traffic comes from all around the world, a CDN may be worth considering, especially if visitors from some locations complain your site is slow.
On the other hand, if most of your traffic comes from one country, you may find you're paying for a service that has no real benefit. In a large country like the USA, you would probably still see speed improvements, but in most European countries, the gain will be largely negligible if you're audience is form the same country. That assumes your site is also hosted in the same country.
For most of our sites, traffic comes from North America and the UK. We usually host on servers in Newark and I'm generally happy with the performance. A CDN would give a speed improvement on the east coast and in the UK, but it wouldn't necessarily translate into higher profitability.
How about a free CDN?
It is possible to take advantage of a free CDN courtesy of Cloudflare. If you're serving a global audience or are receiving negative comments from users about speed, it may be right for you. You will need to have control of your domain's DNS or have it with a host that offers a Cloudflare option.
Something I don't like about Cloudflare is that if your site is slow loading, they display a page that feels like site shaming to me.

That's an example of the error page and I don't like the way it points the finger at the website.
Would that stop me using the service though? Probably not.
I don't use it because on the sites it might be useful for, we would have to buy the Business account. Right now that's $200 per month and I can't see us getting the return on that.
WordPress plugins that can speed your site up
There are a few types of plugin you can install that will help speed up your site.
Page caching
Normally when a visitor arrives on a page of your site, WordPress creates the page from scratch. That can mean multiple calls to the database and time spent processing the code that puts the page together. That all takes time.
Now if someone else arrives on the same page a minute later, WordPress has to create the same page again.
Caching plugins work by saving a copy of each page when it's loaded and reusing this for other visitors. This can dramatically speed up your site and put less strain on your web server.
W3 Total Cache is one of the most powerful and popular caching plugins for WordPress. In reality it's much more powerful than most users need. Many of the features are unnecessary for the average user and it's quite easy to make your site slower using this plugin. Turn the wrong things on or configure them incorrectly and you can hurt your site.
WP Fastest Cache is one of the easiest caching plugins to set up. It's still got most of the flexibility that you'll need, but there's not the same range of options that could slow down a site.
It also works with WooCommerce out of the box. Some caching plugins will break the shopping cart if you don't manually configure them not to. What makes this more problematic is the fact that most don't show cached pages to logged in admin users. So when an admin tests the shopping cart, it works fine, but as soon as a customer tries, the cart keeps emptying itself.
Oddly, Automattic, the company that produces WooCommerce, also produce a caching plugin called WP Super Cache that used to have that very problem. I haven't used it for years now and it may have been updated, but it always seemed crazy to me.
Optimized images
If you don't want to optimize your images before uploading, you should probably install the EWWW Image Optimizer plugin. This can optimize images that were previously uploaded and also work on images when you upload them. I find the free plugin fine, but if you have a very busy site or upload lots of large images, you might want to consider the paid for subscription. That processes the images on their server so has minimal effect on your website.
As well as making your images smaller, you can also set up your site to only load images when a visitor scrolls down a page. That means images aren't loaded unless they're actually needed. This technique is called "Lazy Loading".
At the time of writing, Google are about to release native lazy loading functionality into the Chrome browser. In time we should see it added to the other major browsers too and WordPress should support the feature.
Until then, we need to use a plugin. If you have Jetpack installed, it is one of the modules available. Alternatively, a3 Lazy Load is a very popular plugin that specifically handles lazy loading.
Finally, on the subject of images, Jetpack has one more trick up its sleeve. It includes a free image CDN that will automatically add your images to their CDN when you upload them. One slight negative is there's no way to automatically remove an image once added. You have to send message to request image removal.
I've tried using this twice in the past and hit problems both times. That is most likely the result of a conflict caused by my sites, but it does mean I can't really comment on this service.
Avoid SSL errors
This doesn't directly make your site faster, though SSL does allow for faster connections on servers configured for HTTP/2. You don't need to worry about what that is.
I recommended choosing a host that offers a free SSL certificate. A common problem when an SSL certificate is installed is a "mixed content" warning. This is a result of a site attempting to load some assets with a URL starting "http" instead of "https".
To avoid this issue, install the Really Simple SSL plugin. This can usually resolve any mixed content problems automatically and I always install it regardless of whether I've seen any warnings.
Backups
In 2016, a UK webhost called 123-reg accidentally deleted a small number of websites from their servers. A friend of my wife owned one of the deleted sites and it had been generating several thousand dollars a week. The owner had no backup of the site and lost $1,000s in the time it took to replace the deleted site.
One of the first jobs you should do when you set up a new website is enable some form of backup system. If something goes wrong with the server or your site, you'll be able to get it back up and running as quickly as possible.
You've got a few options here.
Backups by your host
Some web hosting companies include backups as part of their service. Don't assume that your does without confirming it.
In some cases it may be a paid for upgrade.
This is probably the easiest way to get backups in place, but even if this does apply to your site, I still suggest you consider a second backup option as there are free options.
ManageWP
I mentioned ManageWP earlier as a free service that allows you to update multiple WordPress sites at the same time.
One of the paid for addons to their service is daily site backups. This is another very easy way to get backups in place and is very affordable.
Backup plugin
There are quite a few plugins available to create backups of WordPress sites. If you're already using one and are happy, then stick with that.
However, do ensure that you're saving the backed up files on a remote server. Most allow you to save the files on the same server as your site. That will be fine if your site fails, but if the server itself fails, the backups will likely be lost along with your site.
I've used a few, but I've found UpdraftPlus the most reliable. It comes as a free plugin and a premium version with more options. There are also addons to bring more features that may be useful – you can see those here.
WordPress Customization
If you're new to WordPress, the best advice I can give you is don't buy a premium theme.
I'm not saying you should never buy a premium theme, just don't buy one when you're starting out.
I know lots of WordPress users will disagree with me, but here are a few reasons why I give this advice.
Admin overwhelm
It seems common to include a bundle of plugins that are installed along with the theme. They're included to help make the theme look better value, as often the cost of the plugins when bought separately can be more than the cost of the theme.
If you really need those plugins, then that's great. In many cases though, they just fill up and complicate the admin screens.
They can also lead to site owners using the wrong tool for a job and getting frustrated with WordPress.
They focus on features you don't need
Most premium themes I've seen sell their features, not the benefits. It seems to be a case of some kind of arms race as each theme developer tries to grow their list of features.
Don't get distracted by shiny objects. I always think the journey the Etsy.com website has taken is a good lesson in this.
Back in 2005 when it launched, Etsy was a Flash powered extravaganza. They thought deeply about how they could create a site that stood out from everything else with a surprisingly immersive experience for the time.
Feeds of recently added products flew towards you in stream of cards that you could click to go to the product. It looked great but was bloody horrible to use.
There was another feature I remember. It was like a pin board possibly, perhaps where you could save products you liked. I'm really not sure what it was for, I just remember it was my first experience of a physics engine on the web.
You could click and grab one of the things on the board and "throw" it. It would then bounce off the sides of the board as it slowed like friction was affecting it. Every time I visited Etsy, I spent minutes playing with that before leaving again because I'd forgotten why I'd gone to Etsy in the first place.
Look at Etsy now and it's just Amazon in a pretty frock. They learned the hard way that pointless features obstruct a site's true purpose and often hurt the user experience.
Some are complete arse
Just because you're paying for a theme is no guarantee of quality. Why pay for shite when you can get it for free?
A couple of years ago, a friend of my wife who had updated their site with a premium "ecommerce enabled" (developer's words, not mine) theme asked my opinion.
My first comment was "where's the shopping cart?"
That not cheap "ecommerce enabled" theme didn't have a shopping cart.
What it did have was a circular slot in the middle of the screen that you could insert your logo into. Then when someone moved their cursor over it, the logo rotated about 20 degrees clockwise.
Seriously?
Rotating logo = feature.
Shopping cart = benefit. Very, very important benefit on an ecommerce site in fact.
What do I use?
If I'm not starting from scratch, for most things I use a free theme called GeneratePress. It's a great base to start getting used to working with WordPress and there's a premium version you could upgrade to later
A perhaps slightly prettier alternative is Astra. That also comes as a free and premium version.

The free one's quite well hidden. On the pricing page, scroll down below the different packages and click the Download Free Astra Theme.
Along with one of those, I'm a big fan of Elementor. That's a free page builder plugin, that also has a paid for premium version. With some other plugins, I've always found the free version fine.
I usually install Header Footer Elementor too. This is another good reason for choosing GeneratePress or Astra. Both themes are compatible with Header Footer Elementor and that plugin lets you build your own header and footer using Elementor. That's how this very page was created.
If you fancy yourself as a designer, you'll probably love Elementor, though there's a bit of a learning curve.
What if you're not a designer?
Just install GeneratePress or Astra and use the WordPress Customizer to tweak what you can.
The content is the important thing. That's why people will come to your site.
Last month I got a message from an acquaintance asking me to look at their new site. I knew they had a very strong vision of how it should look and having seen the initial designs, the final site was quite a close fit to those layouts.
That site took about three years to build and get launched because they had a really strong vision of what it should look like and were fixated on building that. I hope people like the products they're selling.
I've got a video of me building an ecommerce site from scratch in under 33 minutes. That included adding a product and configuring taxes and shipping. Admittedly I was using an auto installer system I wrote, but I could still do it in an hour without the installer.
Actually, there's the vid. Obviously I've got a bit of experience, so even without the automated tool, I'm going to be quicker than someone who hasn't done it before. But a large part of setting a site up, and most of the important stuff, is filling forms. Just for clarity, all the automated tool does is install plugins and set some settings to save me filling in more forms.
No-one needs three years to get their site built and you don't need your site to match your vision right from the start. Particularly as chances are there won't be many people looking at it for a while.
Oh and a big key to success is planning everything before you start building the site. I've probably got a pre-build checklist document somewhere. If you want a copy, email me and I'll see if I can find it for you.
How to do ecommerce
Having just looked at ecommerce briefly, let's focus on it a bit more.
Hosted ecommerce platforms
Just as there are hosted platforms for you to run your site on, there are hosted platforms to run an ecommerce store on.
Of those, I've only got experience of Shopify, which is the alpha papa of the sector. Big Cartel style themselves as a platform for makers and artists, while BigCommerce is more of a straight Shopify competitor.
Shopify is a great platform that also has a marketplace with addons to extend the base service. While some addons are free, many are paid for and it can be very easy to increase the monthly fee significantly. It may be wise to check through the marketplace before signing up so you know what your true monthly fees will be.
Shopping Carts
If you don't need a full store, you could use a standalone shopping cart. I've never used a service like this and I'll show why next. However I've heard good things about both of these.
WooCommerce plugin for WordPress
WooCommerce is a free plugin for WordPress that turns it into a full ecommerce store.
If you're selling a single product, that may sound like overkill, but you still need to charge sales taxes where applicable. You may also need to charge shipping if your product is physical.
So, WooCommerce can be used purely for the shopping cart, saving you from paying for another service. There are free plugins for taking payments through Stripe and PayPal. There are further plugins to add other payment gateways and also to add more features.
If you need a feature not in base WooCommerce, these are probably the three best places to check:
Live Rates shipping – a good idea?
WooCommerce can be configured to automatically calculate shipping in the USA and Canada. This takes a bit of setting up, but when done, the exact shipping fee is calculated for each customer at checkout.
That can seem fantastic for shop owners as you need never worry about losing out on shipping fees.
Look at it from the customer's point of view though. To find out what shipping will cost, they have to fill their cart, go to checkout and enter their address.
Maybe I'm odd, but when I arrive on a site and it tells me to fill my cart and go to checkout to get the postage cost, I go elsewhere. Unless the site is so specialist there's no alternative, but that's not happened to me yet.
Offering a fixed shipping rate is easily the best option as it makes life super simple for your customers. Offering free shipping above a certain amount can also be a successful tactic for increasing average order value.
Automatic tax calculations – a good idea?
WooCommerce can be set to calculate tax based on your customers' address. Like Live Rates shipping, that's super attractive for site owners, but shoppers won't know what they have to pay until they've gone to checkout and added their address.
I used to set the tax rates manually because WooCommerce then calculates and displays prices and tax based on the user's IP address location. At checkout, it only amends the price if the address details don't match IP address location. For businesses selling to consumers, that's a better user experience.
However tax is getting much more complex as countries respond to the growth of remote online sales. In 2015 the EU enacted legislation requiring any business selling digital products to EU residents to collect and disburse sales tax at the rate prevailing in the customer's country.
That makes life more complex, though you can install the free WooCommerce EU VAT Compliance Assistant plugin to handle this.
It's getting more complex though. Thanks to South Dakota's victory over Wayfair, Inc, US states can now require remote sellers to collect sales taxes. As this article on Avalara shows, most have already brought laws into effect.
There's more though. Many other nations have also enacted similar tax laws, with others planning to. Take a look at this post of digital tax rates around the world.
The automatic tax calculations handle these taxes for the USA, Canada, Australia and the EU. However, it's unclear if it takes into consideration the thresholds that apply in different locations. Some territories require sellers to sell more than a certain amount or process so many transactions before taxes apply.
I think it's possible the standard automatic tax calculations will be sufficient in most cases. However it may be that a service like TaxJar is going to become a necessity, though that doesn't appear to be a complete global solution yet.
Speaking frankly, I'm still working out the best solution for myself so have no idea what anyone else should do.
Whoever said "ignorance is bliss" was right on the money.
Setting up taxes manually
If you're not selling into the USA, setting up taxes manually is pretty easy. You'll find plenty of help online.
For those selling to the USA, it's a bit more complex as there are so many different rates. Fortunately you can download tax rate tables for free from Avalara. These aren't formatted for WooCommerce though. Fortunately, we're friends, so you can use this free tool below to convert files downloaded from Avalara to WooCommerce's format.
This converter will convert a US state tax rates CSV file from Avalara into a WooCommerce compatible tax rates CSV file.
Running courses and memberships on WordPress
Courses and memberships on WordPress are largely similar from the tech point of view. The main difference is the latter needs to take recurring payments. Of course, depending on your requirements, it may be that you'd need two very different setups.
I've done a few home brew setups where I've connected various free plugins with my own code to build sites for free. If you're reading this, that's not an option for you. These are things I've worked with.
You can do it for free
If you are on an absolute minimum budget, S2Member is free. It only allows payments through PayPal, but a lowish one off payment gets the premium version which connects to Stripe and Autorize.Net.
It's often criticized for a lesser feature set, particularly for the free version, but even that allows three paid for member levels and do you need to drip content? Being stuck with PayPal is what puts me off most.
Many paid options are still affordable
In the past we've used MemberPress which came with Affiliate Royale for free when we purchased. In the years since, the price of MemberPress has tripled (pretty sure we paid under $100 for one site) and you don't get Affiliate Royale thrown in. With regards to the price, I think the last two times I've looked there was time limited discount on offer.
I think MemberPress is a great platform and at the discounted price is good value for money. Actually, at list price, it's still a good buy if you're generating recurring income with it. I never used Affiliate Royale, though have heard it's a bit dated now. The website certainly is.
Something else I've tested which is worth a look is LifterLMS. The LMS stands for Learning Management System. This is a free plugin that is well featured, but you can't really build a course or membership with it for free. To take payments, you'll need to buy at least one of their addons. They have a range of addons covering various features beyond just payments and these look pretty good value if you buy them as a complete bundle.
One last note on LifterLMS, you could use the free base plugin with a membership plugin.
Because of the flexibility in how customers are charged, a membership plugin could be used to host courses as well and LifterLMS could be a membership and courses.
Finally, I've not used these, but have heard positive things about them. LearnDash and OptimizePress may be worth you looking at too.
What are we planning to use for Builders?
We're working towards launching a membership and have done some research into our options. I can't make any recommendation because I've not tried this combination out, but I'll share it anyway.
At this point it's likely we'll use Ultimate Membership Pro along with Ultimate Affiliate Pro. We expect to be leaning heavily on affiliate marketing, so the search was for a solution for that. However, with a membership solution available from the same author that's designed to work with the affiliate plugin, it makes it potentially attractive.
The relatively low prices may make them look an inferior option, but that's not necessarily the case for a few reasons.
Once a plugin is complete, most of the work is done, other than the odd update and bug fix, so low ongoing costs
By selling through Envato exclusively means the author doesn't have any marketing spend
Because of the high sales level, Envato will only be taking a small percentage commission
The customer reviews scores look pretty good
We've not fully committed to this set up and I am not in anyway recommending it to you. I'm just sharing what we will likely do.
Tips on video
This isn't something I consider a strong point, but I've learned a few things that have helped me.
Filmic Pro
If you're using a phone or iPod to film video, quality can be hit by the camera hunting settings. For example the video suddenly looks brighter or darker as the camera switches ISO. Color temperature may also change as you film making the subject look cooler or warmer.
Filmic Pro works on iOS and Android and gives you full control over the video camera. It's more powerful than I need, but just being able to lock ISO, temperature and focus made this well worth the money. If your phone or device already has that control, this may be overkill.
For a microphone, the Rode SmartLav+ has been great. Although the copy talks about it being optimized for iPhone, it'll be fine for any device that takes TRSS jacks. TRSS jacks have three plastic rings, rather than two rings that indicate a TRS jack. TRSS handles both headphones and microphone in a single socket.
I wasted a load of time trying to soften surfaces because of an echo, before discovering a cheap extension cable was the cause. The Rode extension cable looks pricey compared to generics, but in my experience was well worth it.
Video editors
I can suggest three video editors that you can download and use for free and are available for Windows and Mac.
All three are good choices. I think Lightworks is probably the most advanced, followed by ShotCut. Originally I favored ShotCut, but rearranging clips on the timeline isn't straightforward.
I then discovered Lightworks doesn't support variable frame rates which causes audio to be out of sync. You can sort this in Handbrake if you want.
However, I ended up using OpenShot and have found it to be the easiest to get to grips with.
One thing to note with Lightworks is that the free version restricts you to outputting your videos in HD format (1280px x 720px). Depending on what type of videos you're making, that may not be a bad thing. If you're just talking to camera, do your users really need to see you in Full HD or higher resolution? Remember many people use mobile devices and data connections, so smaller file sizes may be desirable.
Though all three of these are available for Mac, I'd probably stick to using iMovie as it's pretty intuitive, though OpenShot is similarly easy to use. I only switched to OpenShot when I retired my Mac Pro – I'm too lazy to get up and use my wife's iMac.
DIY Teleprompters
Look on Amazon and you will find cheap teleprompters. However quality may be low, so you might be better off making your own. You'll find various tutorials online, taking a range of different approaches.
There are a few free apps to use with a DIY teleprompter on the App Store and Google Play. I spent a couple of dollars on one as it needs to be able to flip the text and I couldn't find any free ones to do that when I looked.
I 3D printed ours to fit on a specific tripod and seem to have lost the files. If you don't have a printer, it's probably an expensive way to make one.
I also designed a DIY teleprompter using cardboard for laser cutting by Ponoko. It's designed to be held together with lolly sticks and tape or hot glue. I've never tried making it though as their shipping to Spain was almost four times the cost of the teleprompter and I threw my rattle out of the pram when I saw that.
If you want to try making your own laser cut teleprompter (think it's free shipping in USA), I'll share the file, but there's no guarantee it'll fit together as planned.
If you do DIY, this is worth knowing. Real teleprompters use beam splitting glass which makes the text sharp. Normal glass reflects from both surfaces so you get the text repeated. Glass from a clip frame for pictures is quite thin so the distortion effect isn't too big. I've not found it a problem in use.
Of course, you could buy beam splitting glass, though it's rather more expensive. You can also buy beam splitting film that you apply to normal glass.
With beam splitting glass, you lose about one stop of light. That means you need twice the light to make the scene the same brightness. If you're shooting with a DSLR or video camera, increasing the ISO to compensate shouldn't be a problem. If you're using a phone, doubling the ISO may reduce the image quality, so normal glass may be better.
Video to audio
If you want to let your users have an audio only version of your, there's a good chance your video editor will export just the audio.
Should that not be an option for any reason, you can download Audacity for free for Windows and Mac. That will allow you to import an MP4 video and export the audio as MP3.
Where to host video
You can host your video files on your own WordPress site using the media library.
Don't do that.
Video files are generally significantly larger than other media files. If you host them on your own site, you may find you run out of storage space.
When visitors watch your videos, those large files have to be streamed from your server. If your site has limitations on the amount of bandwidth it can use, videos may force you to hit that limit. Some hosts may have terms in their conditions that prohibit the hosting of videos.
Also, when hosted on your site, it's relatively easy for others to make copies of your videos. If you're sharing videos for free, that's not an issue, but it's a problem if you're selling access to your content.
You should host your videos with a service designed to handle video. This means you don't have to worry about using space on your site. Also, because you embed the videos into your pages, they don't use your bandwidth.
Some people use YouTube and just hide videos from being searched for. That's fine to a point. Where it falls down is that once one person watches the video, they can get the source URL and then they could embed the video on any other page.
A Vimeo Pro account is a much better solution. This allows you to limit where your videos can be embedded, making your video content much more secure.
Marketing automation
I'm not going to try and offer an opinion on the best service for your email automations. I've only tried a few and you can get plenty of opinions from different users.
Email deliverability
Something you perhaps should check is the comparative delivery success of any service you're considering using. Try searching "deliverability comparison of email services" or a similar phrase and ensure you're looking at recent results. Don't rely on the results from one comparison and different comparisons may vary in how they tested.
This is also another reason why you should buy your domain and control your own DNS. There are two DNS records that can be set that can improve deliverability.
A Sender Policy Framework (SPF) record is designed to prevent spoofing. Spoofing is when someone else sends an email with your address as the from address. This is easy to do, but when you have an SPF record, email systems can check emails to confirm they have been sent by your server.
Additionally, a DomainKeys Identified Mail (DKIM) record adds further hardening to prevent spoofing.
Some email services make these optional while others require their users to configure these. Whether required or not, if your email service offers information on how to set these up, you really should add these DNS records. They can help to reduce the chance of your emails being treated as spam.
Actually, there's one more DNS record that can be added to further prevent spoofing. Domain-based Message Authentication, Reporting & Conformance is more commonly called DMARC. This requires SPF and DKIM to be set up first.
If your service offers advice on setting up DMARC, do so with caution. Potentially this could be badly configured and instruct email services to reject all emails from you. If you ever switch email services, check that any existing DMARC record is deleted or updated.
Test the deliverability of your emails
There are a few services you can use that will let you test your emails and the likelihood they may be treated as spam. All of these have free options, sometimes with registration.
Mail Tester will concentrate on individual emails
Sender Score focuses on the reputation of the server your emails are sent from
MXToolbox checks if your email server is on any blacklists and you can set up a free weekly check that emails you any changes
Using those should help you to discover weaknesses both in the systems sending your emails and in the emails themselves. When using shared IP addresses as is common with low cost and free email sending, it's possible for all users to be tainted by one account sending spam. This may help you discover if that's the case for you.
Could you host your own marketing automation system?
Well yes, you can. That heading would have been a bit stupid if the answer was no. I've got two things to share and I'm not sure either is a good idea for you.
Groundhogg WordPress plugin
The Groundhogg plugin released late 2018 and has been growing slowly in usage. It's described as an alternative to Infusionsoft that lives on your WordPress site. I don't think it's really comparable, but it is a relatively easy way to build email sequences.
To use this, you need to connect it to an email sending service. Amazon Simple Email Service is a very cheap way to send emails, though it may be a little confusing to get connected if you're non-techie.
My main concern with this is that it doesn't have a great user base yet so may be relatively untested. It's designed to be installed on your WordPress site and doesn't have an option to be installed separately. That means there's the potential for email sends to slow your site down or your busy site to interfere with email sends.
I have no reason to believe that will be the case, but the developers haven't released any benchmarks that I've seen to prove it isn't.
We had planned to try this out with our Builders site, but had to change plans as it's designed to work with the host site. We need a system that lets us track and collect emails across multiple domains.
Mautic (self hosted)
We're using Mautic, which is an open source platform we've used for a few years. I used to describe this as the WordPress of marketing automation. Experience has demonstrated it's really not as user friendly.
It is a very powerful and low cost solution though and you could save $100s per month over similar systems. But it is complex to install and complex to manage, plus it's not got the shallowest of learning curves for end users.
Remember I said I was stubborn. Learning to love Mautic is the best proof I have to support that claim.
If you have your own in house IT team with server management experience, this might be an option. However, that probably isn't you and I deliberately didn't link this project because of that.
Build sales and opt in funnels on WordPress
If you've got a WordPress site, it makes sense to build your landing pages and funnels on the site too.
There are a few ways to handle this and you don't necessarily have to spend anything either.
Thrive Themes
While Thrive Architect was a hideous mess when they launched it, it's grown into a really solid page builder.
Because this has been built specifically as a marketing focused page builder, it has most of the elements you will need.
You can get this as a plugin on it's own, but you'll probably want their Leads plugin too, so you may find it worthwhile getting their annual subscription for all their plugins.
Their themes are very weak and dated now, but they're testing a new theme builder that will let you build your own theme without any coding. When that releases, that will give them a stronger offering again.
Elementor
If you fancy yourself as a designer, you'll likely love Elementor. This seems to get more and more advanced opening all sorts of design possibilities. This comes as a free plugin and a paid for Pro version.
I personally have a Thrive Themes subscription, yet I've not used Architect in over a year because I personally prefer Elementor. By installing other free plugins, the free Elementor can be used to build most types of sales pages.
Alternatively, you will find a wider selection of tools and features in the Pro version which will aid building sales pages.
I've not used Beaver Builder myself, but I've heard positive things about this page builder too, so it may be worth looking at.
Builders
Builders is a membership we're preparing to launch to help entrepreneurs build funnels on WordPress.
This is a work in progress, but we're trying to create a simpler solution based on the Gutenberg text editor. This won't be suitable for anyone who wants the control of a full fledged page builder like those above. Where they offer very fine grained control over all aspects the page design, with The Builder plugin, we've tried to remove as much fine grained control as possible.
With a visual funnel builder and the option to build funnels using a form based wizard, it does things a bit differently.
It won't be for everyone, but if you prefer your focus to be on running your business rather than spending a day or more creating a sales page, it might appeal.
How to test mobile optimized pages on your computer
Do you wish you could check how your pages would look on mobile without moving from your computer?
I'm assuming you said yes.
These steps are for Chrome, but you can do the same thing with Firefox. Possibly with Safari and Edge too, but I've got better things to do with my time than check those two.
A word of warning, while this is very useful, in some cases what you see on a real mobile device may vary.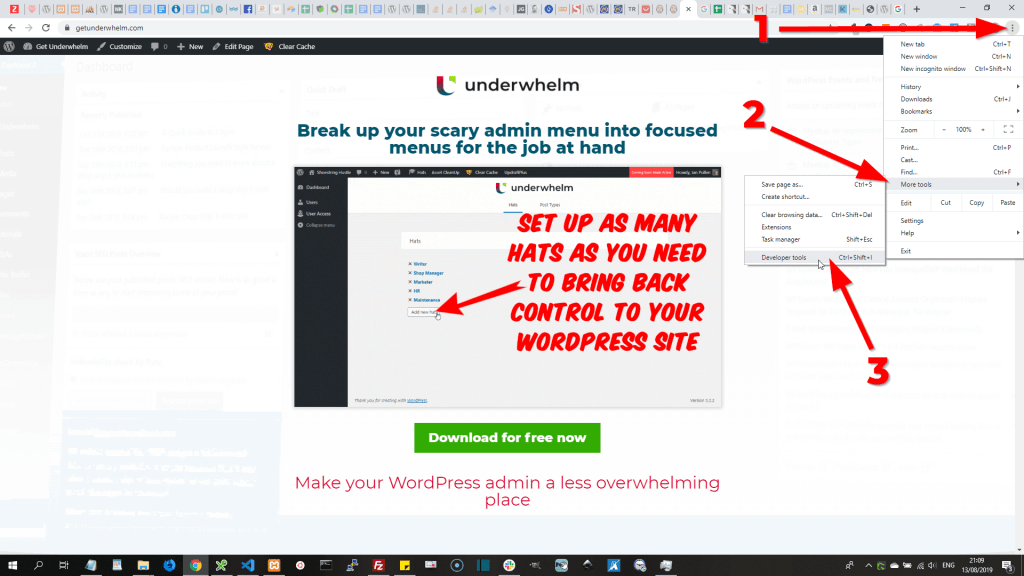 Click on the three dots icon at top right (1), mouseover More tools (2) and then click Developer tools (3). That should open a panel on the right, though it may appear elsewhere if it's been opened and moved before.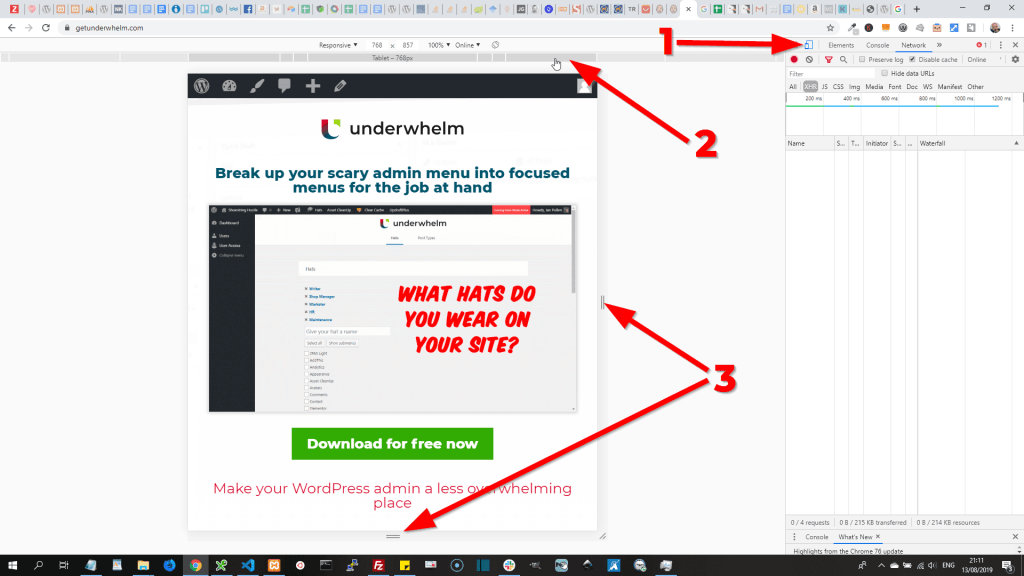 Click the little devices icon at top left of the new panel (1). There should now be a broken gray bar across the top of the panel where the site is displayed (2). Click on parts of that bar to change the viewport width. Be aware that depending on the size of your screen, the page may be scaled down for some viewport sizes.
You can also grab the drag handles on the right and bottom and manually resize (3).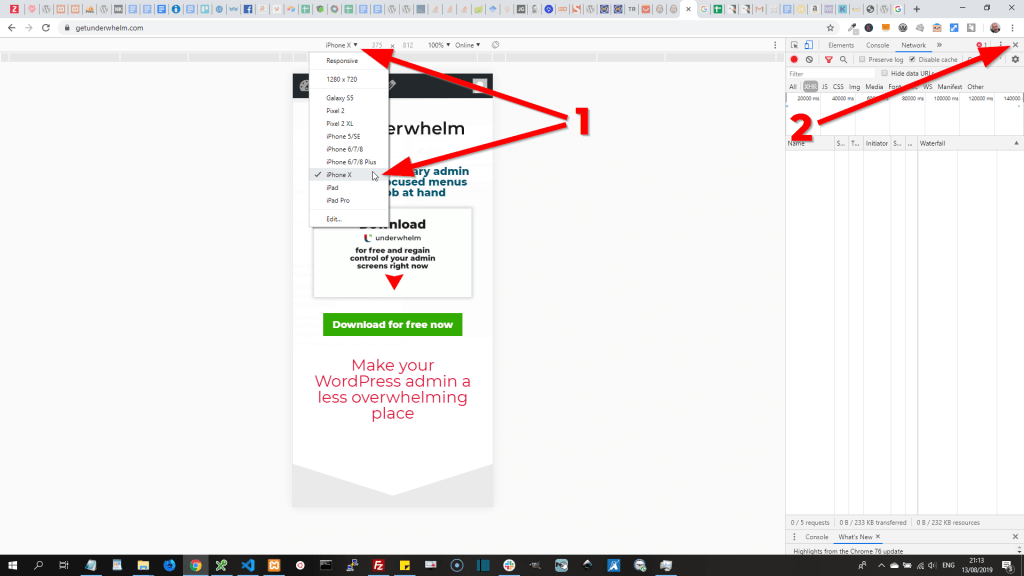 You can also select from a range of preset devices to see how your page would look on those (1). You can close the panel again by clicking the X icon at top right of the panel (2).
Bonus: How to get full length screenshots of web pages
If you ever need to get a full length screenshot, when you're viewing your page in mobile preview, this is an option.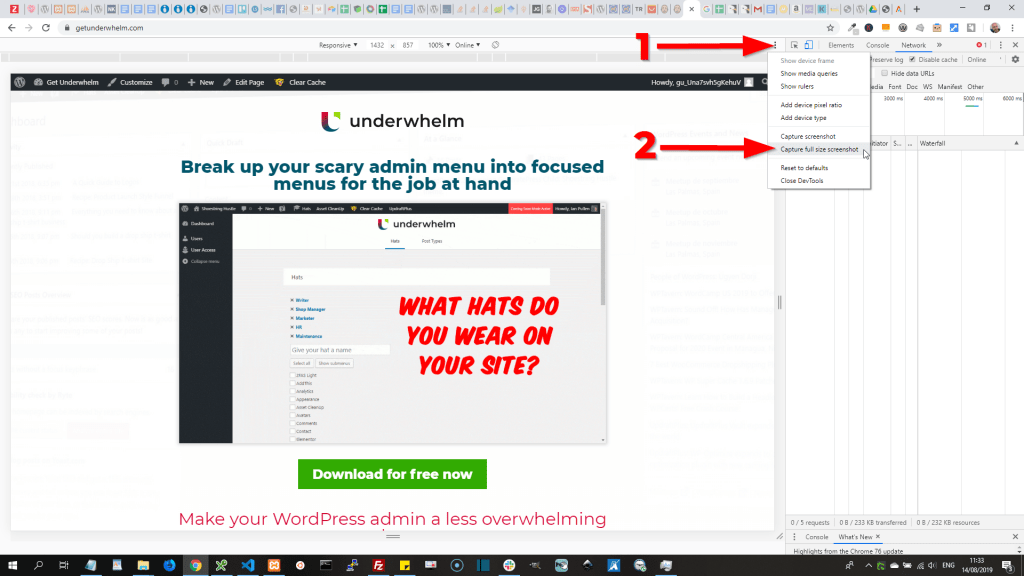 Click the three dots icon at the top right of the viewing panel (1) and then click Capture full size screenshot (2). It will download a full length screenshot to your default downloads folder.
Mobile apps
There are quite a few online app building services that make it super simple to create a basic app for iOS and Android. I've looked into a few in the past but never went ahead with any.
For a while it looked like Apple would be rejecting apps built like this, but they are still accepted as long as the developer account that submits the app is the publisher of the content in the app.
Personally I wouldn't invest much time or money into such an app at this time. A new technology called Progressive Web Apps (PWA) is becoming more mainstream.
Progressive Web Apps
A PWA is basically a web site that utilizes additional JavaScript techniques to allow the site to function as an app on mobile. They're coming to desktop operating systems too.
A PWA can be saved to the home screen like a normal website, but when launched it doesn't run in the browser. There's none of the browser chrome, so it feels like using a native app in that regard.
Data from a site can be stored by a PWA, so it can be used offline, as long as the data required has been downloaded by the app.
The functionality varies between iOS and Android. Despite PWAs kind of being traceable back to the original iPhone, iOS is a little more restrictive in some key points.
On iOS, PWAs can only store up to 50mb of data and if the app isn't used for a few weeks, that data may be deleted. Android has no limit.
iOS doesn't allow push notifications, while Android does.
On Android, Chrome can display a banner prompting users to install a PWA they're using if it meets Google's requirements, while on iOS, Safari users need to manually find the add to home screen button.
Currently they're less attractive for iOS, but that may change. There are some improvements coming with iOS 13, though web notifications don't appear to be among them at this time.
If those limitations aren't an issue, costs should be significantly cheaper.
Should you get a PWA?
PWAs are coded in JavaScript, so technically most competent web coders could create a PWA. However, they're still not too common, so there's also the possibility of hiring someone who's charging while they learn the new API. Definitely seek PWA specific testimonials, as it's quite different to normal front end development.
For WordPress users, until this gets built into the core, and there are moves in that direction, there is possibly a very quick and easy way to turn a site into a PWA – the free SuperPWA plugin.
While they don't list iOS support, their demo site seems to function ok. This can handle push notifications through OneSignal which, while their free option isn't as generous as before, it's probably still plenty for most users.
Downside of SuperPWA is it only caches pages the user visits. Ideally a PWA would seek to cache other pages that users are likely to need, such as new blog posts. So on that basis, SuperPWA is probably more a proof of concept than a production ready solution.
However, it may suggest enough functionality to be a route suitable for some sites to hire a developer to do bespoke work.
How to add Web Push Notifications to WordPress
Web Push Notifications are those boxes that flash up when you land on a site that ask you to accept notifications.
I mentioned OneSignal in the PWAs section as they could be used to send mobile push notifications. They can also send web push notifications for you. They used to be free for unlimited notifications and subscribers. Notifications are still unlimited, but subscribers is now limited to 30,000 on the free account.
You can get the OneSignal plugin for WordPress for free. There's a bit of setting up to do, but nothing complex, and you can then automatically send notifications when you publish a new post. You can also send campaigns through your OneSignal account pages.
How to increase your internet speed
Most cities and large towns in the western world enjoy fast internet speeds now. That's often not the case in more rural locations.
If you're blighted by slow internet, there may be some options you're not looked at.
How fast does your connection need to be anyway. Obviously this varies depending on what you need to do, but a common problem is the inability to stream live video. For a Facebook Live or video chat perhaps.
Open Broadcaster Software (OBS) recommends an upload speed of 2MBPS for stable streaming. You may get away with less, particularly if streaming from a lower resolution mobile device. If you need to share your screen, you'll want to be as close to 2MBPS as possible.
Something worth considering is making a wired connection to your router, rather than relying on WiFi. This should give you the maximum speed available to you and be more consistent than using the wireless connection.
To find out what kind of connection speed you have, check out SpeedTest.net. Your internet service provider probably also offers a speed tester, but you may find that's a bit more optimistic about the speed you get.
If you need more speed, here are some possible options.
Channel Bonding
What I'm about to describe is something I haven't yet tried, but will be giving this a go. I'll update this when I do.
Although we have an ADSL2+ line, we're throttled to 6MBPS downloads and 636KBPS upload. That offsets many of the positives of a rural existence.
That upload speed is too low to share a screen live. It's just about good enough to go live with an iPod.
With Channel Bonding, it's possible to combine multiple internet connections to get what acts as a single faster connection. In our case we would combine our landline with a mobile data connection. We'll need a dongle to make use of a data connection with a laptop.
It's then just a case of installing free software from Speedify and using their service.
Of course, if you live in a rural location, you may already have seen a potential problem. Right now my phone's showing three dots for its mobile signal and sometimes I can't get any signal in the house.
So this may not be a workable solution for everyone, but when your choices are limited, it may just be enough.
Satellite and WiMAX connections
Depending on your location, a satellite or WiMAX internet connection may be available.
WiMAX is like WiFi on steroids, with a range of about 30 miles or 50km. It's usually an asynchronous connection, meaning download speeds are greater than upload.
Satellite connections may be asynchronous or synchronous. In the latter case, the download and upload speeds are the same.
Satellite in particular can look expensive. In our case it's not too different to the cost of ADSL, but we have to pay four times more than 25MBPS fiber users in the town five miles away. You also may need to pay a set up fee.
Chances are you've experienced a fixed internet connection with an advertised speed that was faster than what you got in reality. That's usually put down to the distance from the source and the type of lines feeding the service to you. However, Contention Ratio can also be a factor. This is the number of users sharing the line, as the line may not have the capacity to handle everyone at the same time.
There are speed differences with satellite and WiMAX too and this is down to Contention Ratio. Service providers usually quote the Contention Ratio, but don't explain what it is.
Commonly in Spain, ratios of 50:1 tend to be used for domestic connections and 20:1 for businesses. That means that 50 domestic premises or 20 business premises are sharing the bandwidth that the connection provides.
So if a connection has a speed of 25MBPS, that is being shared with up to 50 customers. In most cases, only some of the users will be online at the same time and if they're looking at static pages, connection speeds should be fine for everyone.
Imagine though that all 50 homes had one user connecting to Netflix. Each user would be getting a connection speed of just 0.5MBPS. That's going to lead to a lot of stop and start viewing.
Miscellaneous software
These are just some free apps that I find very useful.
Greenshot
While the annotations don't look as nice as Skitch, Greenshot is a little better featured and works on Windows and Mac now. If you take a lot of screenshots, this is something you should give a go. The Windows version is free, the Mac app costs $1.99.
LICEcap
When you want to capture short animations of your screen with out creating a video, LICEcap is what you need. It creates animated GIFs and can highlight the cursor if required. This is also for Windows and Mac, but I never got the pause shortcut to work on Mac. Not a big complaint, especially as its free.
ArsClip and ClipMenu
ArsClip is one of those Windows apps I'd have trouble living without. Odd name, but this free paste board manager is surprisingly powerful. Once you set things up, it can be massive time saver, but it's useful just for the ability to copy more than one item at a time
ClipMenu is a similar free app for Mac users. This doesn't have to same flexibility with images, but you configure snippets which can save time on a daily basis.
Creative Cloud alternatives
If Canva, BeFunky and the various other online graphics apps aren't enough for you, here are some open source apps you can download for free.
These are all quite impressive, but not on the same level as Creative Cloud. Of course there's no monthly subscription.
GIMP is an alternative for Photoshop. In some respects this sometimes had an edge over Photoshop, but those days are long gone. PS users will miss Smart Objects and Layer Styles among other things, but if you've never had them, GIMP's not such a pain to use.
Inkscape does a lot of what Illustrator does. It's biggest drawback is probably that you can only work in one page. Illustrator was like that too once, about 20 years ago.
Scribus is a desktop publishing app that really doesn't challenge Indesign. I can remember this being a train wreck of an app years ago, but in fairness, it's a usable app now. I created 40 page book with it last year to see if it was viable. It was a bit clunky compared to Indesign, but there were no issues with the finished print copies.
If you can write simple JavaScript, you can also create some funky dynamic PDFs with Scribus. I've made a few including a PDF that simulated the main camera controls to show the effect on a photo's exposure.
Conclusion
Remember when I said this might be a bit of ramble. Quite an astute comment wasn't it?
Anyway I started writing this to give me subjects to talk about in short videos and it's turned into a monster of a post.
That's most everything techie I can think of that I've learned over 18 years. Hopefully something in there may be of use.
Oh, and remember the various suggestions above are just my personal recommendations and opinions. I'm not saying they're the best choices, just that they've worked for me and I believe they're a good choice for you too if you're stuck on making a choice.
Feel free to rant about it in the comments though. I may even update the above if it's a good argument. Or delete you.